Jason Branson, M.A., LPC, BCPC
Coach & Psychotherapist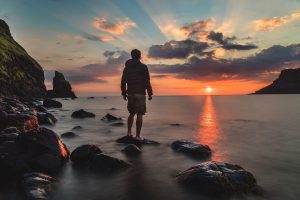 I decided to become a psychotherapist after a brief (but fun!) career in the entertainment industry, both in front of and behind the camera. During this time, I also undertook my own psychotherapy, healing traumas and sorting out the monsters in my mind. After finishing film school at Southern Methodist University, I had a choice: move back to California and hit the streets of Hollywood hard, OR go to graduate school and pursue my other passion of psychology. Having "interviewed" many friends and mentors in the film/TV world, I received virtually the same answer from everyone – if you can find anything else that would bring fulfillment (and more stability) besides entertainment, do that instead. Why? Because Hollywood is a ruthless business with mostly rejection at every turn. After living in that world of "NOs" for sometime, I decided to travel a different path and began graduate school. More than 20 years later, I'm still here. I have even found ways of incorporating my love for entertaining into my work through using my own quirky sense of humor and modalities such as psychodrama in my practice.
What can YOU anticipate from therapy with me?
After spending a session or two getting history, analyzing the concerns that bring you to therapy, and providing some psychoeducation on what you are facing, we will get to work on finding doable solutions to overcoming those obstacles standing in your way. I assign homework, give tools and coping skills, and consistently and compassionately steer you in a different direction.
According to one of my favorite authors and spiritual teachers, Dr. Wayne Dyer, says,

"When you change the way you look at things, the things you look at change." And when you change your perspective, your world changes around you.
Education & Credentials:
License #: 18029
License State: TX
Practicing Since: 1999
Education: Southern Methodist University, University of North Texas